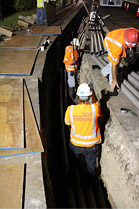 Quality services from the ground up
Electrical Contractors Hawaii is located on the Island of Oahu and got its start performing Power and communications line & electrical structure contracts on Federal Military projects in the State of Hawaii in 1998, installing substations, communications, CATV, and overhead electrical & underground distribution systems. In addition to infrastructure projects, ECH has completed over 8,000 new and renovated family housing units for the military.
Today, ECH has expanded across the country, handling projects as far east as Massachusetts, and employs between 50 and 100 electricians, groundmen, linemen, and other employees. In addition to installing power and communication structures and military contracts, ECH has started a commercial and industrial electrical division – which handles installing electrical on pump stations, sewer lift stations, military fitness centers, office buildings, and more.
With a wealth of experience servicing a large client base of industrial and military clients, ECH has the experience and expertise to deliver cost-effective electrical solutions to your project.
Awards
Associated Builders and Contractors Platinum Safety Award
8 of the last 9 years from 2003 to 2011
Excellence in Construction Grand Award
2003, 2005, 2006, 2007, 2008, 2009, 2010, and 2011 for work on US Military Installations.